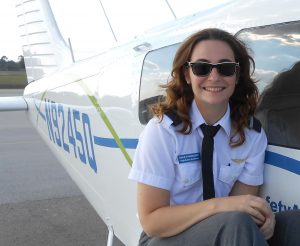 Since I was a little girl, I have always wanted to become a pilot. 
Growing up in Belgium, in high school I made sure I was expanding my skills and my interest in the STEM field.
After high school, I worked on a strong educational foundation first. At the University of Leuven, I obtained my Bachelor's degree in Mechanical Engineering with a minor in electrical engineering, then I continued with my master studies in Mechanical Engineering with a specialization in Aeronautics and Astronautics.
After my studies, I decided to follow my dream of becoming a pilot and pursue a career in aviation. I obtained my EASA flight ratings in Europe, then I moved to Florida and later Arizona where I obtained my FAA ratings.
I worked as a flight instructor at the CAE Aviation Academy in Phoenix, Arizona. As an instructor, I had the chance to work with students from all over the world, who all shared the same passion for flying. After 3 years of instructing, I made the step to become an airline pilot. I joined Air Wisconsin in March 2019, where I am presently working as a first officer. I am looking forward to the opportunity to upgrade to Captain.
Working as a crew has taught me how rewarding it can be to achieve a goal together. I love that flying makes the world a smaller place, it connects people and cultures, it lets us discover our planet and its unspoiled nature. It makes us realize how small we are.
In my free time, I love to travel, hike and read history and travel books. I live in Madison with my husband and my cat.